Ants
When ants live in your house it makes your home feel dirty. Even if you keep an extremely clean home, ants may still invade!

Ant problems usually get worse with time, because once ants find a nice place to live, they don't like to leave. At first you may only see one or two ants and then, before you know it, there are processions of ants walking around your home.
Bees & Wasps
Bee problems can be unnerving because bees carry stingers.

If the issue is a honey bee problem, we may have the bees removed and relocated because of the value honey bees provide to the environment.

With short fuses and quick tempers, Paper Wasps make bad neighbors and are usually best to exterminate quickly.
Spiders
There are many different types of spiders in the Las Vegas valley. The most dangerous are the Black Widow and the Brown Recluse.

One of the best ways to discourage spiders in your home is to proactively control the other types of insects which they eat. No insects for food = Few spiders.
Scorpions
Scorpions are one of the most feared pests in the Las Vegas area!

Some scorpions can slow down their metabolism when they sense pest spray. This behavior allows the scorpion to just barely survive while the chemical dissipates and then the scorpion can resume it's life again.
Cockroaches
Cockroaches crawl through dirty places. They can carry bacteria from these dirty places around with them and spread it everywhere they go. This is a pest you will be glad to have under control.

We use a pet-safe liquid treatment to make an invisible boundary around your home with residual effects for a minimum of 30 days and even up to 100 days, in ideal conditions.
Centipedes
Centipedes are not the most pleasant looking creatures and they definitely look worse when they're speeding across the floor in your home.

Centipedes are a type of desert scorpion and used to be rare in the Las Vegas Valley, but now they are commonplace.

You can make your home less attractive to centipedes by...
Crickets
If you see a pepper-like substance coming from the base of a wall in your home it may be a sign that you have crickets.

Having crickets living in your walls is an open invitation for other pests, like spiders, centipedes, and scorpions, (who like to eat crickets) to move in.
Rats & Mice
Rats are dirty and some people feel embarrassed when they have rat problems because they feel that rats were attracted to their property because they don't keep it clean enough.

But rats don't discriminate based on cleanliness, they are freeloaders by nature and they're just looking for three things to stake out new stomping grounds...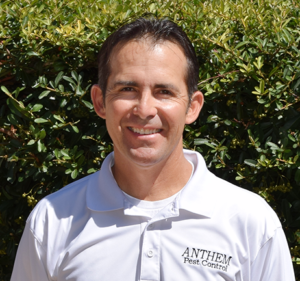 The Las Vegas valley is an incredible place to live, but there are also many pests who live in the valley that would like to make your home into their home.
At Anthem Pest Control we believe that everyone deserves the chance to live in a pest-free home. We have been working to keep pests out of our customer's homes since 1998.
When people have pest-free homes, they have peace of mind.
Anthem Pest Control is family owned and operated. We have expanded carefully and steadily every year. Although there are many people we could hire (and likely expand faster) we prefer to expand carefully to ensure that each of our operator employees are trustworthy people.
Our business requires us to be in and around people's homes and on their property. We want our employees to be people we can trust and ultimately people you can trust as well.
On the residential side, Anthem Pest Control services large homes, small homes, rental units, and apartments.
On the commercial side we service large and small businesses. Manufacturing and utility businesses like to use Anthem Pest Control because we keep up to date with safety training and we have many years of experience safely working around hazardous equipment.
If you have problems with pests, we can help you.
Gilbert Gurule
Founder and CEO